I'm currently going into week four of the first structured training plan I've had in three years. It feels surprisingly good. I'm at the gym about 6 days a week, with 5 of those being significant rides. The 6th usually one hour recovery.
I sold my trainer in late fall in anticipation of being in Australia, however that fell through. I've been relegated to using the spin bikes at GoodLife. Aside from horrendous saddle. its not all that bad. Most of the gym goers prefer to use those semi recumbent couch like machines with pedals. These monstrosities have onboard TV's so you can catch up on missed Montel episodes, as well as not one, but THREE bottle holders in case you feel the need to consume the better half of Lake Ontario during your 15 minute 30 rpm, saddle too low knee busting workout. Whatever. It leave's me free to log in 1.5-2hour rides without getting bothered.
the bohemoth recumbent thing
The spin bike I use at the gym is the Spinner NXT. It allows you to set fore/aft saddle position, cockpit height/length and of course saddle height. I can dial it in close enough to my preferences that it works great. Close enough to my race setup anyways. The q factor of the pedals is surprisingly good for an exercise bike as well. The spd pedals allow me to use my MTB shoes.
I've been cranking out threshold workouts for the last two weeks, and I will be doing so for the next 4 or so. Typical work outs have been 15min warm up @ tempo, then three 20minute intervals at threshold (based on HR). Rest in between each interval is 10 mins of tempo. By the end of each interval im hurting pretty good. While the last half of the last interval my legs are whimpering in pain.
I'm hoping to get on to a powermeter some point in the near future as I'd like to know how fit I actually am. I'm coming off a summer where I did a pretty good job pushing the pace as well as riding well into the winter. I wouldn't be surprised if I'm coming into this training season a couple steps ahead of previous winters.
My sleeping schedule has been completely messed up as of late due to the job I picked up snow plowing and shoveling. It pays decent but when it snows you work like a dog. I logged a 17 hour day last week. It's great to have cash flow again though.
DJ'ing...
I had my usual gig at NV Lounge last night. It was pretty quiet overall, mostly due to the pouring rain. Sometimes those nights are appreciated though, as It allows me to experiment with different sounds rather than having a bumping dance floor to maintain and play safe. I've been hooked on thie group Chvrches for the last little while. Squeezing this track into my set was a bit of a departure from my usual sound and a bit of a challenge..but I think it came out alright.
The set was recorded, Ill give it a skim and see how it sounds. If it's any good Ill throw it up for download.
Next week I have a big event happening here in Guelph We've got a fantastic techno/prog DJ out of Toronto;
Mike Gibbs
. It's three of my closest friends birthday's so we figured it be the perfect excuse to throw a wicked event.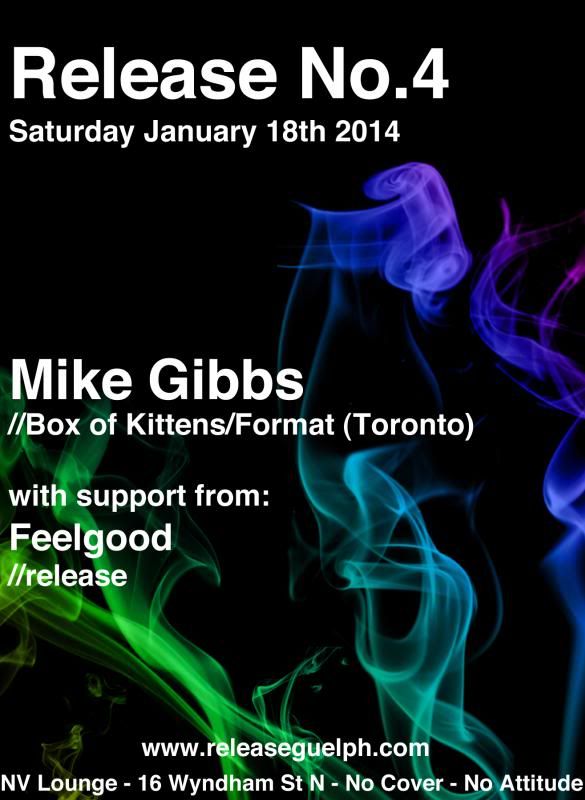 Getting a good underground electronic music event is pretty rare in Guelph. One of the downfalls of living in a small city. I've pulled out all of the stops on this event and we're renting a next level sound system for the event. If you're in the area, I can guarantee you a time and a half!
Speaking of sound.. I think my next blog post is going to be on speaker setup.. having put a lot of effort into learning the nuances of sound system setup in the last couple years, I feel I have something to offer to people who throw their own events.
thats all for now.